The storage of records is one of the most challenging aspects of building a collection. It was time for me to rethink the way I stored and access my records. For a long time I had a few of the standard tall Ikea shelves, with another built in shelf and a few boxes here and there. I wanted to create something that pulled everything together, and made it easy to sort and find stuff. I also wanted to make sure there was enough space to grow.
I looked around the web for some ideas.
These shelves from the Official Periodic Blog were interesting and had a nice detailed plan for construction.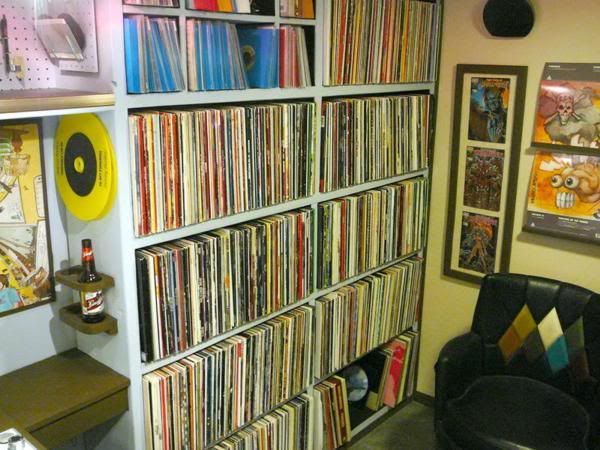 I also watched the Bench Dogs build 100,000 LP shelves in a warehouse, but seeing as I only need space for about 2,000 LPs, I opted for a smaller scale project.
I found the best starting point for me on Dub's Links Blog. The shelves were simple and matched the rest of the stained wood in my little cave.
I drafted a few plans using Google Sketch Up to determine size and space. Most of the shelves store the records with the binding facing out, but I also wanted some storage which would be designed to flip through the records with the covers facing forward, so I designed some room for crates on top of the long shelf. As I progressed in the design, I made the crates stackable, so I can have one extra and move it side to side on the top. It also makes for easy hauling to events.
I quickly ran into one problem. The example I was working from used 13 inch wide pine boards, but after checking the box stores, lumber yards and a few saw mills, I could only find boards a max of 12 inches wide (actually 11.75). I decided to go with burch furniture grade plywood, which needed to be ripped into 13 inch strips with a table saw.
Once the plywood sheets were ripped, it was just a matter of piecing it together. I decided to use dial joints for the bottom row, and built a little make shift jig so the holes would line up correctly in the two boards. The brad nail gun came in very handy for holding it all together quickly.
Here is the version about 90% finished. It turned out pretty much as planned. I would estimate the total cost at $170, most of it was in the plywood (3 sheets at $50 each), and it probably took 12hrs to prep, cut, build and stain the shelves. You may have noticed my initial sketches had solid boards about every 15 inches, but one sketch and the finished shelves used dial rods in each row. I made the adjustment to try to cut cost, the use of the dial rods changed the plywood requirements from 4 to 3 sheets. It is still extremely sturdy.